The Overground RailRoad is a project of the Atlanta Black Agenda Business Resource Center. The Atlanta Black Agenda Business Resource Center, Inc. ("Business Resource Center") is a membership-based non-profit organization affiliated with the Atlanta Black Agenda, Inc.   The Overground Railroad exists to promote kitchen table affirmative action, to advance the historic mission of the African American business community and the Black Church. Our objective is to mobilize and expand the vast stores of social capital, of of mutual self-help and cooperation that have been nurtured and built up by the Black Church to the benefit of our communities.
Black Business Month (BBM) Marching2March is a continuous campaign of the OvergrondRR!!® movement. Pastors of the ORR decided that, to economically empower our people, we needed to focus the community on celebrating and supporting our businesses. They chose March of each year to be Black Business Month.
The mission of the Overground RR!!® is the economic freedom of the Black community, and BBM/M2M is one of its signature campaigns. Specifically, the mission the ORR is to empower the Black community by increasing the share of the Black economy controlled by the Black community.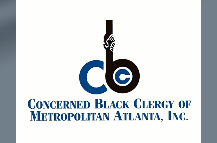 Concerned Black Clergy of Metropolitan Atlanta, Inc., (CBC), is the primary, proactive and principle-centered organization comprising mostly of African-American ministers and laity. Our mission is to provide leadership, advocacy and service to the homeless, helpless and hopeless in our community.
[tubepress]